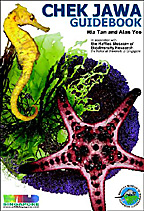 An introduction to Chek Jawa
by experienced
volunteer guides

Over 400 full-colour photos
Over 100 explanatory diagrams
Jargon-free text
Worksheet elements
The volunteer guides of Chek Jawa wrote this guidebook for you! We hope the guidebook will help you discover more about fascinating Chek Jawa during your visit there.

The guidebook is written in Plain English, free of jargon, with huge full-colour photographs and lots of diagrams. Information is in bite-sized pieces for easy digestion in the field.

Each double-page spread has a little thought-provoking question that we hope will help you see more and better understand what is going on at Chek Jawa. A glossary and index are included.

Sample pages from the guidebook
Contents page
Why is Chek Jawa special?
Sandy ecosystems
Splendid Sea stars
Spectacular Sponges
Awesome Octopus
Magnificent Snails
Speedy Squids and Cuttlefish

We have set up a companion website for more detailed explanations that we could not squeeze into the guidebook. The website also has hundreds of photos not found in the guidebook. The site also has the latest news for visitors, latest sightings and other updates on Chek Jawa.

Award
The guidebook was presented the PADI Asia Pacific, Environment Book Award for Excellence in August 2003.

Reports and reviews
Channelnews Asia report: Chek Jawa volunteers compile guidebook to help preserve ecology at coastal habitat off Pulau Ubin.

Review by Paul F. Clark of the London Natural History Museum, published in the Raffles Bulletin of Zoology.

Review by the Asian Geographic magazine Issue 21 (2003)

Review by e-nekton a great e-newsletter focused on diving in the Asia-Pacific but also covers marine conservation and related issues. Read the e-nekton review by David Strike.

Guidebook launch
About the guidebook launch

The Chek Jawa guidebook is currently out of print and there are no plans to reprint the guidebook. More on about this on the wildfilms blog.
Chek Jawa Guidebook
Ria Tan & Alan Yeo

$18.00
5x7 inches, soft-cover
224 full-colour pages
with index and glossary

Available at major
Singapore bookstores

in association with
The Raffles Museum
of Biodiversity Research
The National University
of Singapore

published by
Simply Green

distributed by
Horizon books
(65) 6732-9522

Profits will be channeled towards conservation education and projects

ISBN 981-04-8832-7

Having trouble
buying the book?
Let us help you