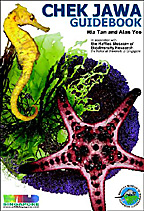 An introduction to Chek Jawa
by experienced
volunteer guides

Over 400 full-colour photos
Over 100 explanatory diagrams
Jargon-free text
Worksheet elements
Reviews of the Chek Jawa Guidebook

by The Asian Geographic magazine
Issue 21 (2003)

A great guide from two of the champions of Chek Jawa, volunteer guide Ria Tan and photographer Alan Yeo. Crammed with information, photographs and illustration, the guidebook provides everything you need to know about Chek Jawa in a handy, easy to carry format (5x7inches). Covering 224 full colour pages.

Drawing on the expertise of scientists from the Raffles Museum of Biodiversity Research (the National University of Singapore), the book explains scientific concepts in layman terms. Each double-page spread has thought-provoking questions to explore issues and ideas associated with Chek Jawa. Concepts explained include: the geography of Chek Jawa, tides and its causes, life on the intertidal zone, scientific names, ways animals feed on Chek Jawa, symbiosis, etc.

The book was the recipient of a special environmental award at Celebrate the Sea. Available for S$18 at major Singapore bookstores. Profits will be channeled towards conservation education and projects.

---
Back to the Chek Jawa Guidebook homepage
Chek Jawa Guidebook
Ria Tan & Alan Yeo

$18.00
5x7 inches, soft-cover
224 full-colour pages
with index and glossary

Available at major
Singapore bookstores

in association with
The Raffles Museum
of Biodiversity Research
The National University
of Singapore

published by
Simply Green

Profits will be channeled towards conservation education and projects

ISBN 981-04-8832-7

Having trouble
buying the book?
Let us help you