Sea Turtles
Sea turtles in Singapore, the region and the world including conservation and threats. see also wild shores for other marine issues.

Except for sightings, this page is no longer updated.
Latest media updates for this topic are in the feed below
from the
wildsingapore news blog
.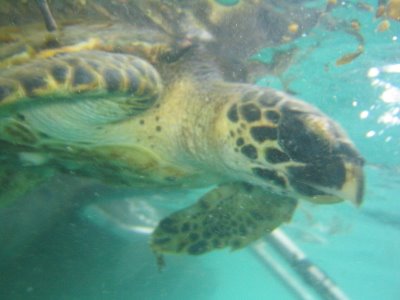 photo by siyang on his urban forest blog on 12 Nov 07
Sea turtle sightings in Singapore
Sea Turtle Spotted at Semakau! (12 Nov 07) Sadly it wasn't doing too well. On the urban forest blog.
Hawksbill turtle near Sentosa (Sep 06 until Sep 07) tagged with satellite transmitter as part of a WWF Malaysia project on the News from International Coastal Cleanup blog
Hawksbill turtle hatchling rescue and release at East Coast Park (23 May 06) More photos and lots more details of this on the habitatnews blog
Turtles rescued from drains (23 May 06) more photos of the rescue on the ubin volunteer blog
Blue Tempeh meets Aunty Betsy under the sea (Pulau Hantu) (21 Feb 06) photos and story on the habitatnews blog
RF Xplore explores Hantu (21 Feb 06) with photos of sea turtle and lots of other marine life on The Blue Tempeh blog
Wonderful diving at Pulau Hantu (4 Feb 06) with lots of photos of the sea turtle on the Colourful Clouds blog
Sea turtle seen on Hantu Bloggers' first anniversary dive (Mar 05) on the habitatnews blog

Media articles

Florida loggerhead turtle nests drop in 2007
Yahoo News 6 Nov 07

Currents and quakes believed to be reason why turtles are here By Sira Habibu The Star 1 Oct 07

Federal report shows sea turtle declines
By Ben Evans, Associated Press Yahoo News 22 Sep 07

Saving Turtles: 'Doing the turtle walk' now a thing of the past Stories by Achadtaya Chuenniran Bangkok Post 22 Sep 07

Stephen Colbert's Favorite Turtle Missing After Great Race Jeanna Bryner LiveScience Yahoo News 19 Sep 07

Sea Turtles' Mystery Hideout Revealed
Jeanna Bryner Yahoo News 19 Sep 07

Naomi Campbell casino plan sparks worry over rare Kenyan turtle by Bogonko Bosire Yahoo News 14 Sep 07

Sea turtles still endangered, threatened
Yahoo News 7 Sep 07

Hawksbill turtles fight losing pollution battle in Indonesia
by Nabiha Shahab Yahoo News 30 Aug 07

Malaysia famed Trengganu turtle beach sees no nestings so far this year Channel NewsAsia 21 Aug 07

Turtles End Up As Exotic Dishes?
By Nor Shamsiah Mohd Bernama 13 Aug 07 Turtles

Taiwan strives to conserve rare turtles
By Wally Santana, Associated Press Yahoo News 28 Jul 07

Small steps key to saving giant turtles: expert
Yahoo News 19 Jul 07

Malaysia could clone endangered leatherback turtles
Yahoo News 12 Jul 07

Malaysia to release thousands of hawksbill turtles
Yahoo News 5 Jul 07

Turtle's dinner table escape provides clues on habits
Yahoo News 23 May 07

Loggerhead sea turtle returns to wild
By Doug Gross, Associated Press Yahoo News 15 May 07

Glow Sticks May Lure Sea Turtles to Death
Helen Scales National Geographic 27 Apr 07

Trawling, industry threaten India turtle nesting
By Simon Denyer Yahoo News 4 Apr 07

Trawling, industry threaten India turtle nesting
By Simon Denyer Yahoo News 4 Apr 07

Malaysia arrests Chinese fishermen for poaching turtles
Yahoo News 27 Mar 07

Poachers Suspected as 1800 Olive Ridley Turtle Carcasses Found Along Indian Coast Underwatertimes 15 Mar 07

Rare Turtles up for Sale Along With Malaysian Island
Story by Niluksi Koswanage PlanetArk 9 Mar 07

Loggerheads digging fewer nests and no one knows why
By Dinah Voyles Pulver Journal Online 25 Feb 07

Sea turtles returned to Gulf of Mexico
By Lynn Brezosky, Associated Press Yahoo News 21 Feb 07

Marine turtle nestings on the rise in South Africa
WWF 19 Feb 07

Taste for leatherback eggs contributes to Malaysian turtle's demise by Hamish Townsend Yahoo News 10 Feb 07

Sea Turtles Dying Along Bangladesh Coast
PlanetArk 6 Feb 07

Only 1,000 leatherback sea turtles left
Antara 29 Jan 07

Turtle deaths in Terengganu spark alarm
By R.S.N. Murali The Star 29 Jan 07

Sea turtles are rescued from Texas cold
By Lynn Brezosky Yahoo News 19 Jan 07

Batfish to the rescue!
Centre of Excellence for Coral Reef Studies 19 Dec 06

Whom to save--turtles or humans?
Jajati Karan CNN-IBN ibnlive 10 Dec 06

From poachers to marine conservationists
Philippines Information Agency 4 Dec 06

Two-headed marine turtle found in Costa Rica
WWF 1 Dec 05

Vote Urges Fishing Limits to Protect Turtles
Story by Irwin Arieff PlanetArk 29 Nov 05 UN

Shrimp trawlers look to cut waste
BBC 24 Nov 06

Malaysia requests fishermen to stop using trawl nets
The Star 23 Nov 06

Turtles give up their DNA for science
ABC.net 22 Nov 06

Migratory Animals Most at Risk from Warming - UN
Story by Gerard Wynn PlanetArk 17 Nov 06

Malaysia's turtle island faces uncertain future
People and Planet 16 Nov 06

Turtle plans mapped out
The Star 13 Nov 06

Tri-national commitment in Pacific raises hope for leatherback conservation WWF website 4 Nov 05

Epic journey brings turtle to Welsh shores
NewsWales 3 Nov 06

India: Fishermen suffer for turtles
The Statesman 1 Nov 06

Malaysia turtle egg plan 'crazy'
By Jonathan Kent BBC 14 Oct 06

Turtles have left Terengganu shores, despite help
New Straits Times 14 Oct 06

OK soon to sell turtle eggs
The Star 12 Oct 06

Hatchery planned to make Pulau Gaya a turtle stopover
Daily Express 11 Oct 06

Fishermen's nets take deadly toll on turtles
The Star 5 Oct 06

Turtles of the Caribbean: the curse of illegal trade
WWF 1 Oct 06

Scientist Wants Ban On Sale Of Leatherback Turtle Eggs in Terengganu Bernama 29 Sep 06

Rare giant turtles roam San Francisco
Glen Martin San Francisco Chronicle 26 Sep 06

WWF hooks up with Norwegian fishing company to save marine turtles WWF website 26 Sep 05

Terengganu traders selling turtle eggs
The Star 25 Sep 06

Brunei seizes nearly 2,000 turtle eggs from suspected Malaysian smuggler The Associated Press International Herald Tribune 25 Sep 06

Scientists study decline in turtle nests in Florida
Yahoo News 25 Sep 06

Oman: Turtles tagged on Masirah Island
Gulf News 23 Sep 06

Villagers cast wary eye at sea after turtle's sudden return
New Straits Times 19 Sep 06

Balinese Sea Turtle Conservationist To Receive 2006 Seacology Prize By Seacology ENN 15 Sep 06

Turtle Conservation Centre In Penang Open To Public Soon Bernama 13 Sep 06

Four turtles found washed ashore, two dead
Visayan Daily Star 9 Sep 06

Malaysia: Hope for near extinct turtles
The Star 7 Sep 06

Turtle trackers: Scientists plumb the secrets of elusive leatherbacks
By Emily Saarman SantaCruzSentinel.com 5 Sep 06

Scientists tag turtle to track its movements
New Straits Times 30 Aug 06

Record summer for marine turtles
Ansa 28 Aug 06

Indonesia, PNG, Solomon Islands agree to conserve leatherback turtles Antara 28 Aug 06

Malaysia: Sarawak releases baby turtles
The Star 23 Aug 06

Malaysia: RM10mil to build reefs for turtles
The Star 18 Aug 06

Poachers Massacre Protected Turtles on Mexico Beach
Story by Alistair Bell PlanetArk website, 11 Aug 05

Leatherbacks Not Extinct In Malaysia, Says Turtle Centre Bernama 9 Aug 06

Leatherback Turtle Declines In Number
By D. Arul Rajoo Bernama 7 Aug 06

Rare turtle to get satellite tag
BBC 3 Aug 06

All the eggs in one basket: Conserving too few sea turtle nesting sites EurekAlert 1 Aug 06

11 endangered sea turtles to be released, tracked
By Wong Mun Wai Channel NewsAsia 31 Jul 06

Dugong rescue centres at fishing villages
Bernama 20 Jul 06

Tourism and Turtles in Turf War on Greek Island
Story by Deborah Kyvrikosaios PlanetArk 17 Jul 06

Concern in Australia over marine debris
Indian Ocean South-East Asian Marine Turtle MOU website 13 Jul 06

Malaysia to track leatherback turtles by satellite: report
Yahoo News 13 Jul 06

7 green sea turtles gain independence
By Karin Stanton APYahoo News 5 Jul 06

Booming Development Driving away Persian Gulf's Endangered Wildlife By Jim Krane ENN 3 Jul 06

Warmth sends leatherbacks north
BBC 1 Jul 06

Guyana sets up fishing restrictions to help endangered sea turtles Written by AP PlanetSave 28 Jun 06

Green turtle travels 2,390km in 60 days
by K. Suthakar Kemaman Indian Ocean-South-East Asian Marine Turtle website 25 Jun 06

Seaweed, algae could kill the Great Barrier Reef
(due to lack of large herbivores such as sea turtles and dugongs)
By Jade Bilowol News.com.au 19 Jun 06

Sea Turtle Restoration Project Presents Plan Of Action To UN To Save Leatherback Sea Turtles
By the Sea Turtle Restoration Project ENN 19 Jun 06

Turtle eggs sold near sanctuary
The Star 15 Jun 06

Don't release balloons at Sentosa. They kill the turtles which eat them Letter from Isabel Kang (Ms) Straits Times Forum online 8 Jun 06

Malaysian experts hopeful turtles will return after disastrous season Channel NewsAsia 7 Jun 06

Turtle Power Threatens Chevron's Gorgon Gas Project
Story by Paul Marriott PlanetArk 7 Jun 06

UN Asked to Ban Fishing Practice, Save Sea Turtle
PlanetArk website, 6 Jun 05

Students develop campaign to protect coral reefs in the Arabian Gulf WWF 28 May 06

Rollerbladers rescue baby turtles at East Coast
by Radha Basu The Straits Times 26 May 06

Baby turtles rescued and returned to sea off Changi
By Wong Siew Ying Channelnews Asia 25 May 06

Fishing ban forces fishermen to suicide
Ians Kendrapada New Kerala 21 May 06

How satellite tracking revealed the migratory mysteries of endangered Atlantic loggerhead turtles
University of Exeter EurekAlert 22 May 06

Scientists Fear for Nesting Turtles
By Lynn Brezosky, Associated Press ENN 8 May 06

Mascot Turtle Loses to 'Nemo' in Malaysia
Electric New Paper 1 May 06

Oceans of Waste: Waves of junk are flowing into the food chain Paula Bock The Seattle Times 27 Apr 06

Winners of international competition to reduce marine bycatch announced WWF website , 21 Apr 05

Greenpeace Sounds Alert Over Indian Turtle Deaths
PlanetArk 5 Apr 06

Scientist warns of threat to last stronghold of endangered turtle EurekAlert 7 Mar 06

Year of the Turtle 2006
WWF 1 Mar 06

Grim future faces Indian turtles
By Sanjaya Jena BBC 25 Feb 06

Problem of illegal netters at beaches
Letter from Nur Azzahar Today Online 4 Feb 06

Here's the dirt on S'pore's beaches
by Radha Basu The Straits Times 5 Dec 05

Vote Urges Fishing Limits to Protect Turtles
Story by Irwin Arieff PlanetArk 29 Nov 05 UN

WWF launches fishing gear competition to reduce marine bycatch WWF 29 Nov 05

Relax the rules. Don't deprive anglers the joys of fishing
Letter from Teh Boon Hong Straits Times Forum Online 29 Oct 05

WWF hooks up with Norwegian fishing company to save marine turtles WWF website 26 Sep 05

AVA protects marine life by regulating trade
Reply from the AVA to Letter in the Straits Times, 5 Aug 05

Released into the wild
137 Singapore-born hawksbill turtle hatchlings are released to sea, 2 months after their mum laid eggs at East Coast Park
By Chang Ai-Lien The Straits Times Forum Page, 4 Aug 05

Punggol beach not so clean
Letter by Gene Kam Letters to the Straits Times Forum Page, 25 Jul 05

Sufferring a net loss
by Radha Basu The Straits Times, 13 Jul 05

Worldwide coastal cleanup bags 4,000 tons of debris
by Jeannette J. Lee PlanetSave website 19 May 05

Winners of international competition to reduce marine bycatch announced WWF website , 21 Apr 05

Protecting the turtles of the Turtle Islands
WWF website 30 Sep 05

WWF hooks up with Norwegian fishing company to save marine turtles WWF website 26 Sep 05

Poachers Massacre Protected Turtles on Mexico Beach
Story by Alistair Bell PlanetArk website, 11 Aug 05

Tsunami Pushes Leatherback Turtles towards Brink
Story by Simon Denyer PlanetArk website, 15 Jun 05

UN Asked to Ban Fishing Practice, Save Sea Turtle
PlanetArk website, 6 Jun 05

Tsunami a boon for endangered turtles
By Harsh Kabra BBC News website, 19 May 05

---
links
Year of the Sea Turtle website all about sea turtles and other YOT activities worldwide
International Coastal Cleanup Singapore website join the effort to understand and reduce marine litter
The curse of marine litter and their impact on sea turtles on the habitatnews blog

More that YOU can do ...

Don't buy sea turtle products: Trinkets or products made from turtle shell or leather. Food and medicinal products made from sea turtle eggs, meat, oils and fat.

Dispose of rubbish properly. Jellyfish are among the favourite food of sea turtles. Sea turtles that mistakenly eat floating plastic bags and balloons may eventually die.

Don't discard fishing nets and fishing lines in the sea. Sea turtles breathe air. If they are trapped in abandoned nets and fishing lines, they may drown.

Protect our marine habitats. They are homes to our sea turtles.

Be a responsible boater. Be careful when travelling near reefs and seagrass areas where sea turtles are often found.

Be a responsible diver. If you encounter a sea turtle, do not disturb or harass it.

Be a responsible tourist. Visiting a beach famous for its sea turtles? Support turtle-friendly businesses there. Don't walk on the beach at night. Find out more about the sea turtles there and their habitats.