Guidesheet to the
Amazing Marine Life
of the Southern Shores
of Singapore

Packed with more than 100 full-colour photos of plants and animals that you might encounter on a typical visit to our Southern Shores. Done by experienced volunteer guides, this one-page (printed on both sides) pamphlet is a great introduction to our marvellous wildlife on the shores.

Folded for handy reference in the field, the guidesheet is also available unfolded as a poster.



Sample pages of the guidesheet
front page | inside page
(yup, only two pages :-)

Where to buy?
The guidesheet will be on sale at Nature's Niche at the Singapore Botanic Gardens Visitor Centre from 1 Nov 04 and eventually at major bookstores in Singapore.

You can also get it from the Blue Water Volunteers' public talks and exhibitions.

The next public sale by BWV is 19 Nov (Fri): Diver's Night at Hard Rock Cafe 7pm. Come down and party with Fins Magazine! Meet Celebrity Diver, Melody Chen and enjoy fun, games, and great lucky draw prizes. Blue Water Volunteers will be selling the for a special November only rate of $2.50!! more

To buy it on-line visit Nature's Niche

Having trouble getting a copy? Let us help you.

Here's some of the lovely ladies who contributed to the guidesheet and are obviously very excited about it. more on Jani's blog.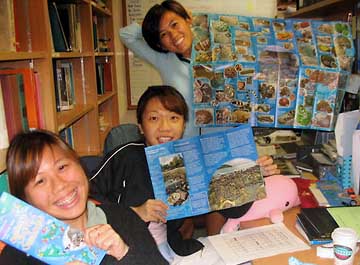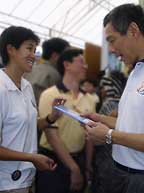 And on 6 Nov 04, Blue Water Volunteers proudly presented a copy of the guidesheet to the Prime Minister during the launch of Clean and Green Week!



project editors
Ria Tan & Loh Tse-Lynn

$4
30x21 inches
folded pamphlet
(also available unfolded
as a poster)
100 full-colour photos

Available at major
Singapore bookstores

in association with
Blue Water Volunteers

published by
wildsingapore pte ltd

distributed by
Nature's Niche

Profits go towards the Blue Water Volunteers public education programmes such as the free guided walks for the public

ISBN 981-05-2225-8

Having trouble
buying the guidesheet?
Let us help you